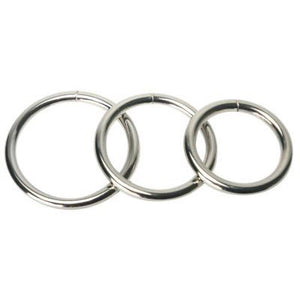 The 'Trine Steel Ring Set' though Simple in form, are intended to be worn with purpose. These Steel C-rings are as elegant as they are strict.
There is no give here! Simply slip a Trine over the penis like a halo, endeavor beyond the shaft for a supremely snug fit.
The Trine Steel Rings are versatile in that they can also be used to fit most harness systems to secure pieces to place .
Rings come in 3 sizes: 1.5 inches,1.75 inches and 2 inches.