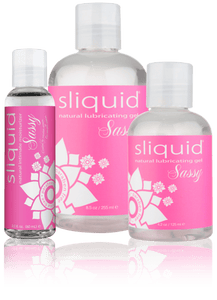 Sliquid Sassy Natural Lubricating Water based gel
Specially formulated to enhance anal sex and backdoor penetration play, Sassy offers all the safe slipperiness of Sliquid's clean, natural water based formula in a thicker texture that provides even more comfort, cushion and reliable moisture.

A healthier choice for mindful people, all Sliquid lubes are free of DEA, gluten, glycerine, glycerol, parabens, PEG and a long list of other potentially irritating or harmful ingredients. Sassy is completely water based and water soluble, rinsing easily and completely off skin and fabric using plain water. 
Perfect for pleasure seekers with sensitive skin, Sassy contains no chemical additives, just purified water, a cotton based plant cellulose, a guar gum conditioner, and natural preservatives. This hypoallergenic lube is also completely colorless and mess free, making Sliquid Sassy a discreet, non-obtrusive addition to sex. Sassy is safe for use with all toy materials and condoms.


Glycerine, glycol and paraben free
DEA, PEG, sorbitol and sulphate free
Hypoallergenic
Colorless and non-staining
Vegan friendly