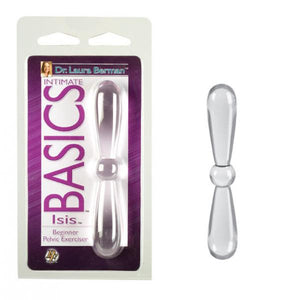 Laura Berman, LCSW, PhD, is an assistant professor of psychiatry and obstetrics/gynecology at the Feinberg School of Medicine at Northwestern University. She has been working as a sex educator and therapist for 20 years, and is considered a leader in her field. Her latest book, "Real Sex for Real Women" is an international Best Seller.
The Dr. Laura Berman Intimate Basics Collection™ is designed by women, for women to give you and your partner exactly what you need; color, ergonomic designs, discreet packaging, superior quality, quiet and powerful devices. Dr. Berman personally writes instructions for each product.
Perfect for beginners!
Small and sleek Kegel® style exerciser is easy to use
Designer pouch included in boutique packaging • Acrylic/Lucite® • 6"x 1"/15 cm x 3 cm