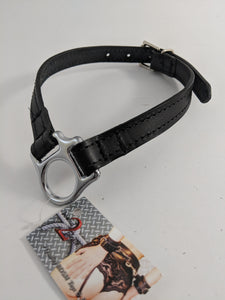 Petite ' Vee ' Collar   
The collar is the first essential accessory in domination/role play. It is a meaningful and powerful symbol of ownership and role distinction, whether that lasts for an hour, for an agreed contract or a lifetime. It is a high-end fetish fashion statement, it is a practical restraint. The collar can be attached to a leash, or anything else that you can imagine.
High quality leather intertwined with stainless steel links, beautifully sewn. Bound to please is made/owned locally here on Vancouver Island and are gorgeous functional  pieces for your day today use & fetish play and to expand your high end collection.
Roller buckle closure & Features a front steel attachment point.