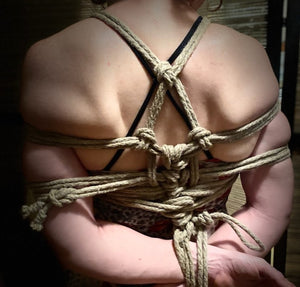 Sunday, Nov 26 (5:30-7:30), at Sexpositive Shop
Special price for our previous participants!!
Rope can be fun and sexy, but where do you start? How does the average person tie their partner to the bed for some fun time?
Come learn the basic, safe, and functional fundamental rope skills that help you discover ties and applications that appeal to you. (see Practice ties below!)
If there is enough interest, we'll practice hip and chest harnesses to build towards suspension. 
This class Gabriel will cover;
Safety and Consent

single column tie /square knot

reverse tension / larks head

joining two ropes

frictions/ hitches
Practice ties: hands free Shinju chest harness, hair tie, leg tie (futomomo), and hip harness
There'll be time for questions, discussion and practice!
Bonus game: ichinawa !!
No Pre-requisites required. Come with a partner or pair up with another participants if you wish. You can also practice the basic knots on your own body.
Instructor: Rope has captivated Gabriel for its beauty, sensuality, versatility, technical challenge and artistic expression. He loves the slow build up of connection and inherent intimacy between rigger and bottom.
Gabriel has been doing rope (self taught) for a couple of years. With a background in engineering, a love for knots (naughty or not), a lot of studying, and now hundreds of hours of practice with many amazing models, He's picked up some skills. He's led a few group rope sessions in Nanaimo and has discovered he enjoys sharing those skills too.